Are you looking for a home with unique charm and character? Historical homes provide just that, plus so much more! Whether it's an old Victorian farmhouse or an antebellum plantation house, these properties are filled with potential and offer buyers the chance to reconnect with bygone eras while preserving something special. From the stories held within their walls to the beauty of antiquity found inside, there are countless reasons why buying a historic home can be a great decision. 
What Makes a Home Historic?
To be accepted as a historic property, the home needs to be at least 50 years old and meet one of four criteria:
It's connected to significant historical events.

It's connected to the lives of influential individuals.

It's considered an embodiment of a particular master or historic style.

It has provided or is likely to provide important historical information.
Not only is the Prescott downtown courthouse square surrounded by historical businesses and attractions, but the surrounding neighborhoods are full of history as well. In Yavapai County, 132 properties and districts are listed on the National Register.
The top three listed on the National Register (see full list here):
Arizona Pioneers' Home – 300 S. McCormick St.

Blumberg House – 143 N. Mt. Vernon

Brinkmeyer House – 605 W. Gurley
Historic homes allow property owners to own a piece of history and embrace the character and stories of a beautifully crafted home. But historic houses also come with particular issues that newer homes don't. So, before you commit to owning a historic home, you must understand how to find and buy the right one and be prepared for the ongoing care and maintenance your new home will require. 
Beware of Toxins
Be aware of lead, asbestos, and other things hiding behind the walls. Pipes and paint can be lead culprits, while asbestos in basements, attics, and walls may lurk. Also, it's common for abandoned septic tanks, cesspools, wells, or even heating oil reservoirs buried somewhere on the property.  
Renovation Restrictions
Depending on preservation guidelines, a truly historic home may be ineligible for particular renovations. Check out the preservation guidelines beforehand if you have plans for improvements. 
Wiring and Plumbing
If the electrical system in the house hasn't been upgraded, you might find yourself facing problems. Adding appliances or other significant power loads to the system can cause issues. Older plumbing found in historic homes can also change typical plumbing repairs into complicated projects. 
Authenticity is Expensive
The materials you'll need to repair or restore the house's original fixtures, windows, or other aesthetic components can add up quickly. 
About Prescott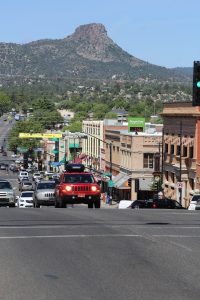 Once the state's territorial capital, Prescott, Arizona, is rich with history embodied in its world-famous Whiskey Row, the historic courthouse, and numerous historical landmarks. Whether you're seeking to relax in a natural environment filled with beauty and wildlife or the history of "Everybody's Hometown," you will find something that will interest you. Visit the official Prescott, Arizona, website to learn more by clicking here.
Located in the Bradshaw Mountains, Prescott sits at an altitude of 5,400 feet. The average high temperature in the winter in Prescott is around 52 degrees and averages 89 in the summer. There are approximately 46,000 people in Prescott, but the surrounding "Quad-City" area of Dewey-Humboldt, Chino Valley, and Prescott Valley and the smaller towns of Mayer, Paulden, and Wilhoit, comprise around 119,000 people.
From the historic homes to the unique culture, Prescott is one of Arizona's gems. Whether you want to buy a piece of history for yourself or take time to enjoy learning about the past, this city is a great choice. And when it comes to finding that perfect property, I would love to help. If you're interested in finding a historic home in Prescott that can become your slice of remarkable history, call me today – I look forward to helping you on your quest!  Trent Beaver (928) 916-1921