Do you know the CCRs of your property? If not, you should. The Covenants, Conditions, and Restrictions (CCRs) are the rules that govern your neighborhood or community. Knowing and following them is essential to maintaining the quality of life in your community. Violating them can result in penalties, so if you don't know what they are, now is an excellent time to find out.
Lucky for you, I have compiled complete resource of CCRs in the Prescott area. Having these documents available during the home-buying process is an excellent tool for making an informed decision.
Visit ThePremierList.com to download the CCRs for your area.
(We have them listed alphabetically for easy searching.)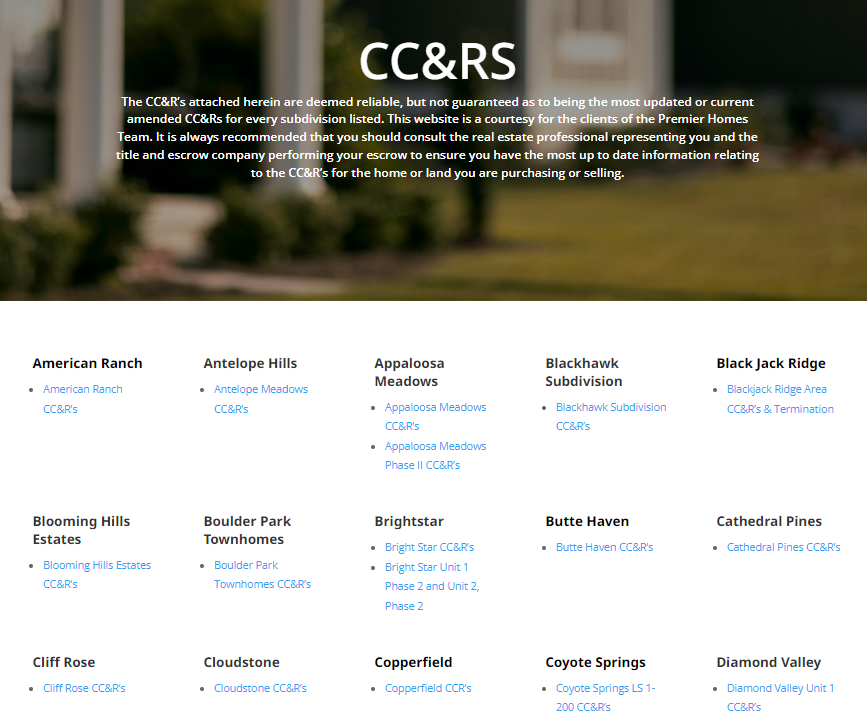 What are CCRs
The CCRs of your neighborhood are important because they dictate what you can and cannot do in your neighborhood. The Declaration of Covenants, Conditions, and Restrictions, commonly known as the CC&Rs, is a legal document filed with the county recorder's office and made a part of the official real estate records that run with the land that is part of the community.
The CC&Rs outline the processes and procedures community members must follow, although the HOA might also have other requirements.
Below is a list of some items you may find on the CC&Rs. There are countless options and possibilities of items that can be included, so read your document carefully.
Restrict the height of your fence
Require a defensible space for fire protection
Prohibit political signs
No livestock
No temporary house trailers or tents
No billboards
No mobile homes
No Dome-shaped homes
Buildings shall not exceed two stories
Each owner has an equal right to the use of the common wall
Each unit shall be kept neat and orderly.
Simply put, the CC&Rs provide a roadmap to homeowners of what is expected and permitted in their neighborhoods.
If you have any questions about the Covenants, Conditions, and Restrictions for your community or neighborhood, please do not hesitate to call me at (928) 916-1921. I would be happy to help you understand them better so that you can abide by them and maintain the quality of life in your area.